PPE DONATED TO PROTECT OUR HEALTHCARE HEROES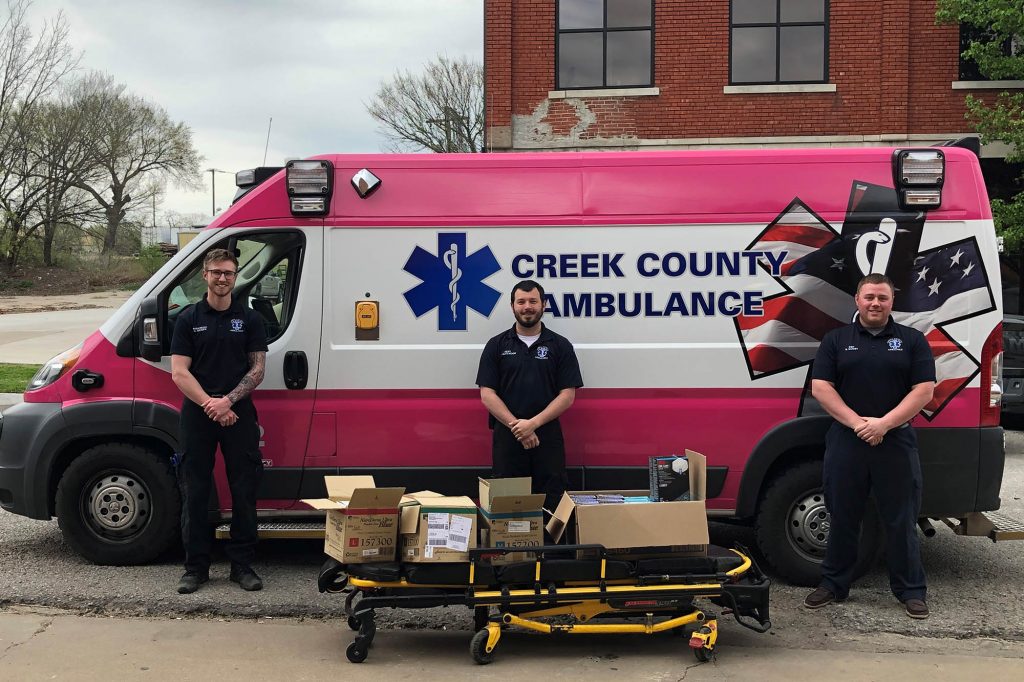 With Central Tech conducting online training for the remainder of the school year, healthcare instructors from both campuses swiftly collected and donated the personal protective equipment (PPE) and other medical supplies originally planned for student instruction.
"It's an honor to have an opportunity to give back to the facilities which provide clinical sites for students. Without our medical partners, we wouldn't have the opportunity to educate the healthcare professionals of tomorrow," said Ron Dyer, superintendent of Central Tech.
Like hospitals during the COVID-19 outbreak, frontline health workers, including emergency response, face a shortage of medical supplies. Central Tech's Sapulpa campus was able to donate cases of latex, nitrate, and vinyl gloves to both the Creek Country Emergency Management, for police and fire department distribution, and Creek County Ambulance. In addition, face masks, some being N95, were donated to Creek County Ambulance and gowns to Stroud Regional Medical Center.
"Our healthcare workers are preoccupied with protecting our lives, and we want them to be able to protect themselves as well," said Dr. Kim Howard, campus director in Sapulpa.
The Drumright campus effort responded with an outpouring of donations for the following: Drumright Fire and Police Departments, Cushing Fire Department, Hillcrest Hospital of Cushing, Cushing Primary Care Clinic, Pipeline Crossroads Clinic, Stillwater Medical Center, Drumright Regional Hospital, Chandler Fire/EMS Department, Stroud Nursing Home/Health Care Center, and food donations to the Oilton Free Will Baptist Church.
"Our healthcare partners support Central Tech every day," said LaDonna Gear, campus director in Drumright. "We want to offer our continued support to them and let them know they can depend on Central Tech."
Central Tech, in total, donated approximately 20 different types of supplies with 160+ boxes of gloves and nearly 3,400 masks being the highest quantity items.
"We are happy that the Adult Career Development (ACD) which utilizes adjuncts to teach short-term classes was able to provide a magnitude of items to several healthcare facilities in the district including Arbor Village Nursing and Rehabilitation and Stroud Healthcare Nursing Facility," said Diana Plummer, district director of ACD. "We were able to donate a variety of items from masks, gloves, bonnets, to toothbrushes, razors, shaving cream, cotton balls, alcohol, wipes, facial tissue, Lysol, Germ-X, and shoe covers."