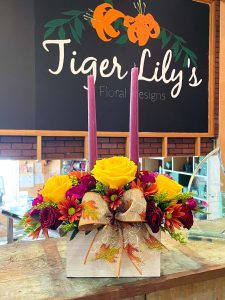 Want to impress your Thanksgiving Holiday guests?
Come join us for a floral design workshop where you leave with your Thanksgiving table centerpiece in hand!
This is your opportunity to flex your creative floral design talents with the help of our skilled instructor, Jennifer Hixson, owner of Tiger Lily's Floral Designs. You may have seen her on her weekly Facebook live streams of "Watch Me Wednesday", but now is your chance to have her help in person.
Jennifer will work alongside you to create this Thanksgiving themed arrangement that is sure to enhance your holiday decor.
* Designed for beginners, no experience necessary
* MUST enroll by November 10th at 5:00pm
| Location | Dates | Hours | Days | Times | Tuition | Fees & Supplies | Total Cost | |
| --- | --- | --- | --- | --- | --- | --- | --- | --- |
| Campus: Drumright Campus | Dates: 11/17 | Hours: 2 | Days: Th | Times: 6:00p-9:00p | Tuition: $10 | Fees & Supplies: $40 | Total Cost: $50 | |