DESCRIPTION
In the operating room (OR) surgical techs prepare patients for surgery, set up surgical instruments / equipment, pass sterile supplies / instruments to surgeon and ensure the integrity of the sterile field throughout the procedure. Outside the OR, they might manage central supply departments, evaluate products, or go into medical sales. Upon completion of the program, graduates are eligible to take the National Certified Surgical Technologist Exam. Accredited through the Commission on Accreditation of Allied Health Education Programs (CAAHEP) and Accreditation Review Council on Education in Surgical Technology and Surgical Assisting (ARC/STSA).   All applicants are required to attend an information session with the instructor in the Surgical Technology Classroom.
INFORMATION SESSION SCHEDULE
Thursday, February 21, 2019 2:00 pm
Wednesday, March 13, 2019 6:00 pm
Wednesday, April 3, 2019 9:00 am
Thursday, April 18, 2019 9:00 am
Tuesday, April 30, 2019 2:00 pm
Thursday, May 16, 2019 6:00 pm
Tuesday, May 21, 2019 9:00 am
Wednesday, June 5, 2019 2:00 pm
To sign up for an Information Session contact the Career Advisor at 918.352.2551, extension 283. Bring your application packet with you.
Become a surgical technologist in 10 months and sit for the national certification exam. Change your life by earning great pay and benefits!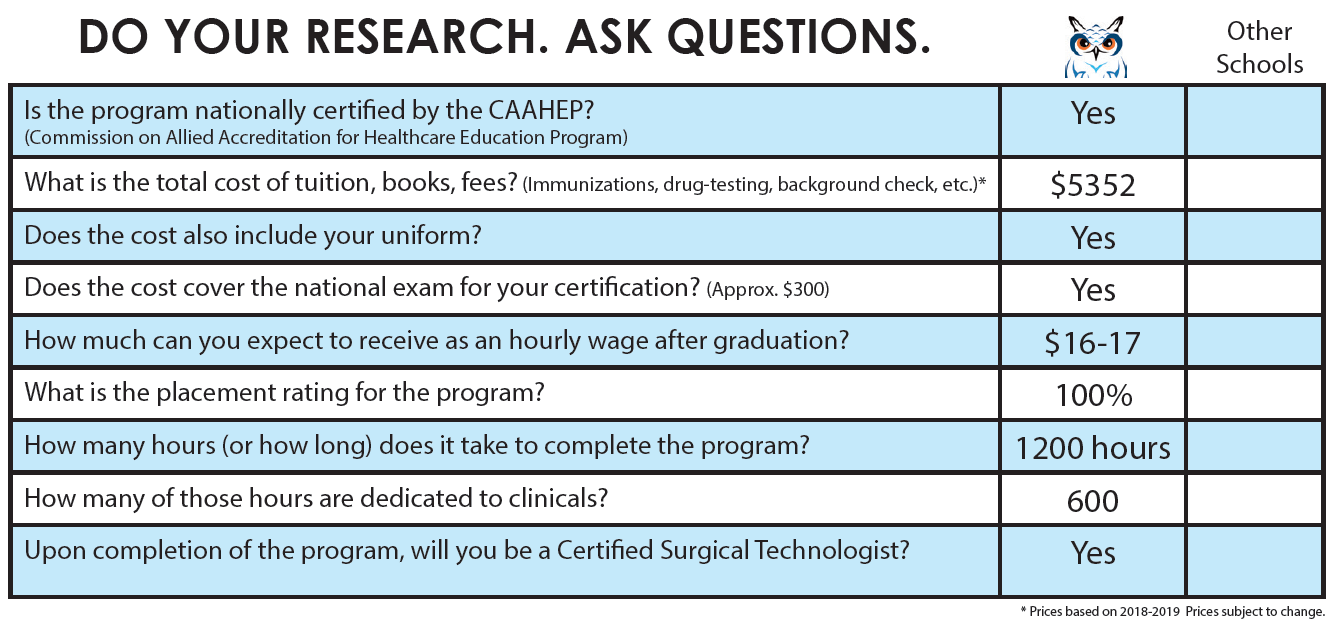 CST Exam Results 08/01/2016-07/31/2017 per 2018 Annual Report 12 graduates, 9 passed exam, 75% pass rate
Surgical Technology
> Average Salary: $17.10/hr
> Students: Adults
> Campus: Drumright
> Times: Full Day
> License and Certifications: Certified Surgical Technologist – Endorsed by National Board of Surgical Technology and Surgical Assisting