Calling all college-bound "Grey's Anatomy" fans interested in the health industry…
Are you interested in becoming a doctor, veterinarian, pharmacist, sonographer, forensic scientist, medical researcher, or other college degreed medical professional?
Would you like to start early?
Biomedical Science students are tackling the same type of real-world challenges seen by the professionals. We're talking the big ones…like discovering new cancer treatments.
How are students doing this in high school?
Our students work with the same tools used by biomedical science professionals in hospitals and labs. They are quickly introduced to hands-on activities and labs where they team up to solve problems by finding solutions.
If you want to make the world a better place and get a jump start on preparing for college and your medical career, then Biomed is for you.
You will study Biomedical Sciences through the exciting Project Lead the Way (PLTW) curriculum that provides hands-on projects and experiences. Below are a few examples of hands-on lab activities.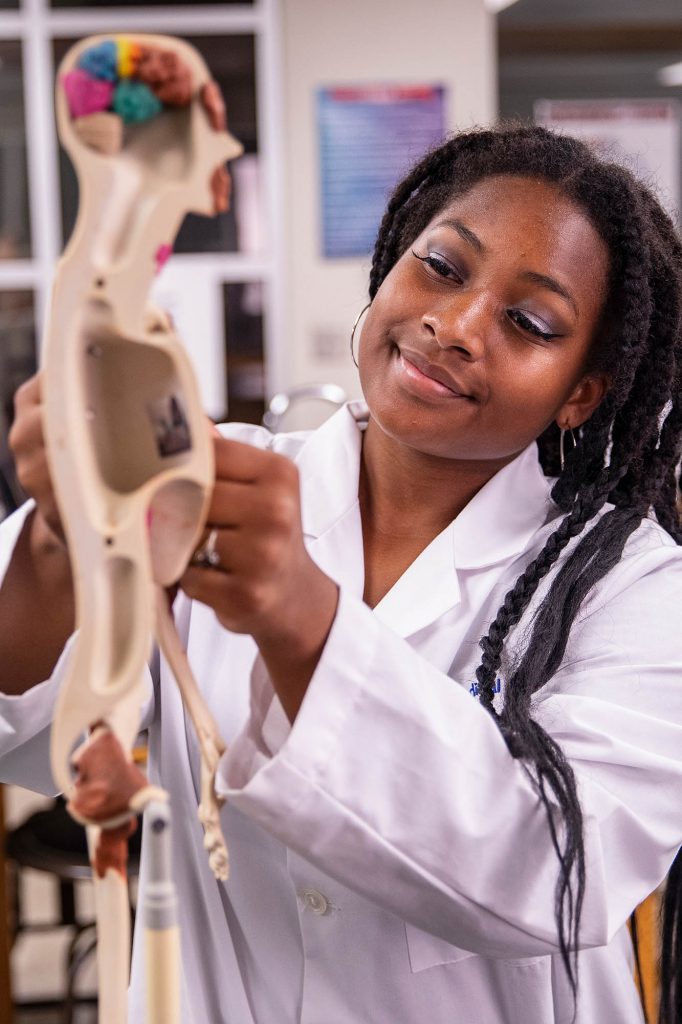 CAPSTONE PROJECTS
During the final year, you will choose your own biomedical problem you would like to solve. You will research, test, and provide results on the issue you choose.
CURING CANCER
Just before the COVID-19 pandemic, a student chose to study the effects of adding Messenger RNA (mRNA) therapeutics as a treatment to ovarian cancer cells. Using the P53 gene, it would provide the genetic code for the cells to produce protein. Once protein is produced in the cells, the body launches an immune response killing the cancer cells. Why is the timing important? It's important to note that mRNA has never before been used in a vaccine. However, the first two COVID-19 vaccines on the market used mRNA to fight the coronavirus. A first in history…and one of our students was studying the same solution.
Recent Capstones:
AREAS OF STUDY:
You are exposed to a diverse curriculum with a strong math and science foundation to better equip you for success in a science related major at the college/university level. In BioMed you will receive high-level math and science credits for high school graduation and college preparation.
You will study advanced math courses that include:
Pre-AP Algebra II
Pre-AP Calculus or AP Calculus
Also included are advanced science courses such as:
Anatomy & Physiology
Microbiology
Pre-AP Chemistry
AP Biology or Statistics & Probability
If you plan on going to college for a medical profession, Biomedical Sciences prepares you well. I'm a 4th year pharmacy student on rotations and track to graduate December 2021.
Biomedical Sciences prepared me more than anything else for college. I would not be where I am today if I had not attended.
Central Tech offered an enriched environment for me to learn and grow as an individual. I took part in the Biomedical Sciences program which exposed me to higher level science and math courses that I otherwise could not participate in. This helped me immensely when I went to college. Without the help and guidance of Mrs. Metz and Mrs. Overton, I would not be in the position I am today.
I graduated with my Bachelor of Science in Nursing from UCO in May 2020 during a global pandemic. For most people, 2020 did not go as planned, especially from a nursing perspective. There are dozens of specialties and sub-specialties in nursing, and it can take a while to find your niche. That's the purpose of nursing clinicals and shadowing. CT is the high school version of clinicals. It provides an opportunity to try new "specialties" to help you find your niche before you graduate and join the real world. Regardless of the year, things don't always go as planned. The more prepared, the more likely you'll succeed.
My biomed classes at Central Tech prepared me for my undergraduate degree in biochemistry and molecular biology as well as my doctorate in veterinary medicine. They gave me a solid foundation that was in so helpful in achieving my career goals.
Without Central Tech, I may have dropped out of college when it got tough. I probably would not have been as diligent with my class schedule. Central Tech is the only reason I am a college graduate.