AUTOMATED ROBOTIC TECHNOLOGY
Automated Robotic, Industrial Maintenance, or ElectroMechanical System Mechanics. That's who!
As technology makes advances in automation and machine learning, jobs once held by humans are now being manned by machines. It takes a mechanically savvy person to install and maintain these machines. And when they break down or need maintenance…
Automated Robotic Mechanics, also known as Industrial Maintenance Mechanics, are skilled mechanics that install, operate, test, repair, and maintain industrial machinery.
Many technicians have both electrical and mechanical skills, hence the name, electromechanical.
The machines they work on are automated and robotic and are usually found in manufacturing plants or small factories where the mechanic ensures the smooth running of in-house production equipment. They work on:
AC/DC electricity
Aligning shafts and bearings
Conveyor belts • Electric motor
Gear boxes for pump or fan
Gears and pulleys
Mechanical drives
Motors
PLC and process controls
Small computers
Switches on machines
CAN I FINISH THE PROGRAM EARLY?
Yes, since the program is self-paced, adults with the aptitude for IM who complete the curriculum can start on-the-job training (OJT) and complete the course early.
Is this a good job for me?
You like to fix things, cars, radios, anything. You take things apart just to see how they work. You're not a quitter. Your work is meticulous, some may say you're picky. You like to get things right the first time. You appreciate a change of pace and don't want to do the same thing every day. Then, yes, this is a good job for you.
If you're not afraid of a little math, we will teach you when 2+2+2+2=8 the sum consumed in a series forming a single flow versus when 2+2+2+2=2 in a parallel circuit as the voltage remains the same.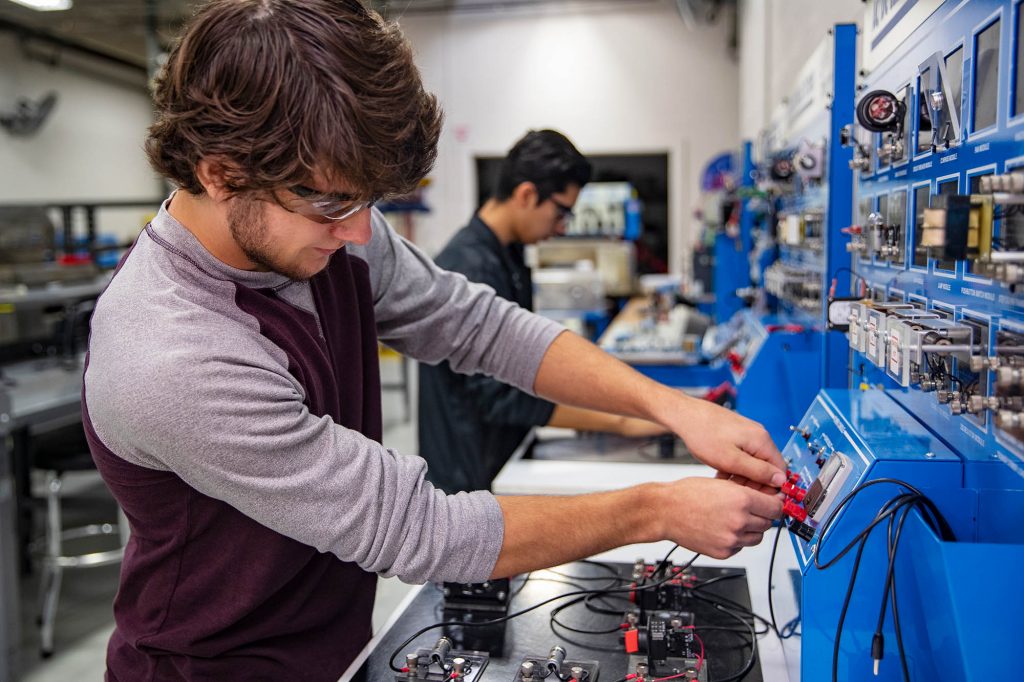 INDUSTRIAL MAINTENANCE TECHNICIAN
PATHWAY
Details
This program is designed for those seeking careers in maintenance in a manufacturing environment. This is the basics of the maintenance manufacturing curriculum. The course covers:
Safety
Manufacturing Fundamentals
Tools
Basic Electricity
Basic Electronics
Motor Controls
PLC Programming
Process Control
Adapting to the Workforce Skills
Areas of Study
Fundamentals of Manufacturing
Introduction to Manufacturing Technology – Machine Tool
Maintenance Tools & Equipment in Manufacturing
Safety in Manufacturing
Mechanical Power Transmission Theory & Principles
Fluid Power Theory & Power Transmission Principles
Alternative Current Circuits
Basic Electrical Theory
Direct Current Circuits
Electrical Distribution
Electrical Schematic & Blueprint Reading
ElectroMechanical Devices & Applications
Industrial Electricity
Motor Theory & Operations
Variable Frequency Drives
Programmable Controller Programming
Human Machine Interfaces
Control Trouble Shooting
ControlLogix Systems
Digital Electronics for Manufacturing Maintenance
Instrumentation & Control
Principles of Welding & Manufacturing Maintenance
Industrial Networking
Workforce Staging
Capstone Project
Potential Career Path
Source: Zippia.com
"We hired five students from the previous class. We can't wait to see our options this year!"
RELATED NEWS & INFO
MORE INFORMATION
Our Graduates
Where do they find jobs?
Read More
Our graduates work in many industries including aeronautical, energy (oil & gas), and retail such as Amazon and Macy's. They also work in other industrial environments, including computer and communications equipment manufacturing.
---