Women in Welding - Introduction to TIG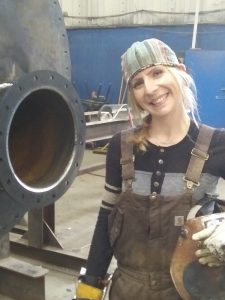 This 15-hour course focuses on the non-traditional student by highlighting women in the welding field. It encourages women to expand their skills to include TIG welding.
We begin with the basic process by working on plates and lap joints. The class covers pipe coupons when students have the plate work and cup walk down. Pipe tests include the standard 2g, 5g, and 6g.
Men are welcome to enroll.
About the Instructor
Sarah Adcock, Instructor
Sarah is a TIG welder for GasTech Engineering with seven years of professional welding experience. She maintains certifications in TIG, GMAW, FCAW, SMAW, and SAW processes.
Classes

Campus

Dates
Hours
Days
Times
Tuition
Campus: Sapulpa Campus
Dates: 5/11/21
Hours: 15
Days: T
Times: 5:30p-8:30p
Tuition: $150