Take a drive on any street and look around. Every structure you see is either old, new, or under construction. New buildings, roads, and other structures represent the building process, and America likes to build.
Let Central Tech help you build a foundation for a career in construction.
Students learn how to build a house from the ground up.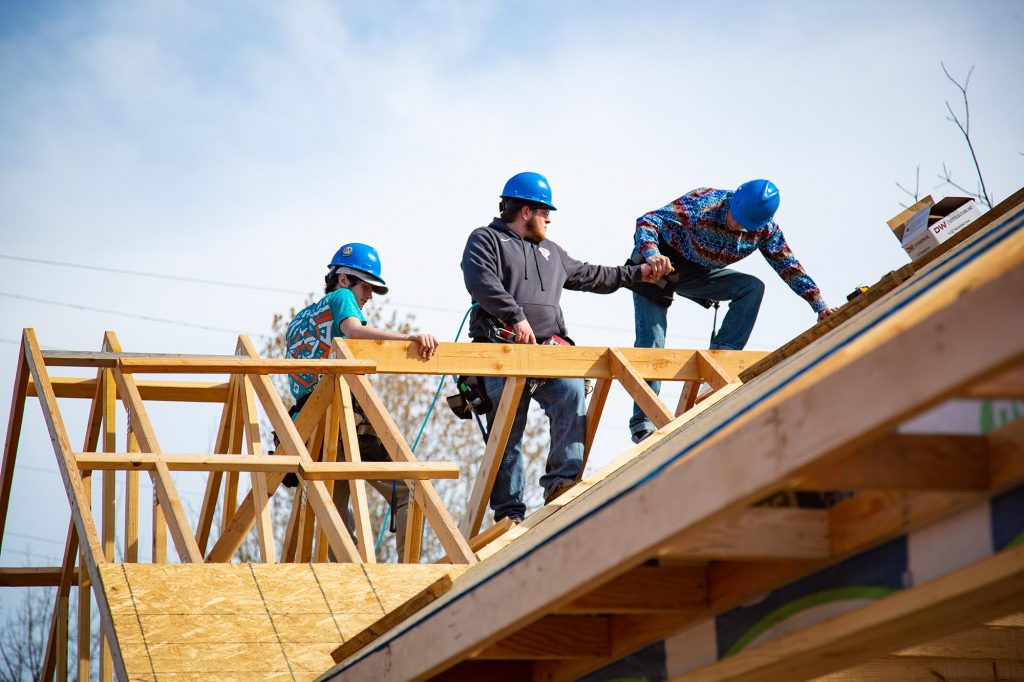 Check out the building process you will experience hands-on:
Build the wood frame floor or use the concrete slab to start framing
Begin framing walls and roofs and/or setting trusses
Sheath the outside walls and roof for protection
Finish exterior siding and trim work
Apply shingles
Cut and hang drywall
Complete interior including hanging doors and trim
Build or assemble and install cabinets
The house is a cooperative project with Drafting Design in which the students design the blueprints for the house, and Electrical Trades students wire the home for electricity. In fact, some students will choose to take both construction and electrical trades to increase their skills, employability, and starting salary. Others may choose to combine construction and drafting or start their own construction company.
Building a home, as part of the curriculum, gives students a leg-up on someone beginning their training with a construction company.
High school students rave about the Skills competitions in framing, cabinet making, and TeamWorks (which combines carpentry, masonry, plumbing, and electrical skills).
If you are a person who enjoys seeing the fruits of their labor, then each day on a construction site can be rewarding. Once the project is complete…you can enjoy looking at it for years to come.
Build your future in construction trades and help frame the future of the construction industry.
RESIDENTIAL CARPENTRY
Construction Trades offers a level of training that qualifies both high school and adult students for entry into the building trades industry or cabinetmaking industry.
Practical experience is offered in various phases of residential construction. Skills taught include:
Tools & Job Safety
Use of Hand & Power Tools
Plan Reading & Elevations
Framing of Floors, Walls, Ceilings & Roofs
Roofing Applications & Thermal & Moisture Protection
Exterior & Interior Finishing
Cabinetmaking
AREAS OF STUDY:
Construction Core & Safety
Construction Principles
Framing
Exterior & Finishing
Workforce Staging
Interior Finish & Trim
Advanced Framing
Cabinet Construction
Advanced Finishing
POTENTIAL CAREER PATH:
Source: Zippia.com
Great place to find future construction employees.
Construction is a great class that generates great leaders.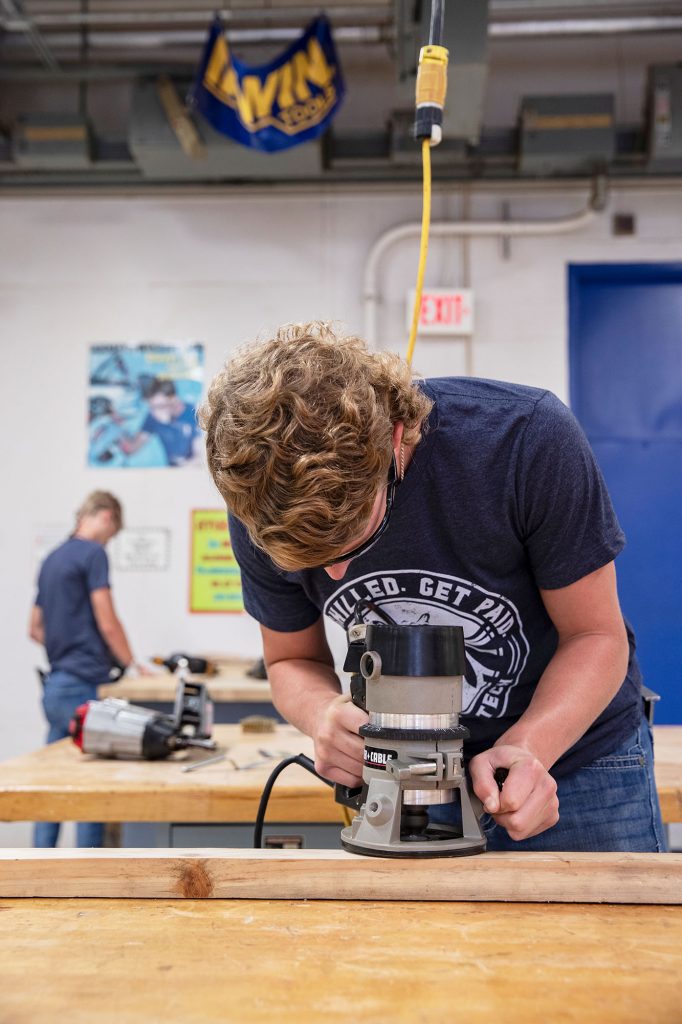 Our Graduates
Where do they find jobs?
Read More
Our graduates find residential and commercial employment locally and, in the Tulsa, and Oklahoma City areas. Most students who go straight to work after completing the program start in carpentry, metal stud framing, form work, or drywall.
Many graduates will further their learning at OSU-IT studying Construction Management. As you take on new responsibilities in your job and become a leader, you could progress to a foreman or project superintendent. Students who complete their two-year associate degree can start working as an assistant superintendent making approximately $55,000/year.