Hooves on the Ground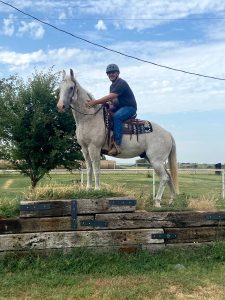 Hooves on the Ground offers an Introduction to Horsemanship opportunity for disabled veterans and first responders. In this FREE eight-week class you will choose a horse to partner with and then begin a journey through basic horsemanship.
Classes are two hours long followed by a light lunch. Topics covered include education and hands-on experience in:
grooming
tacking
horse behavior
communication with the horse both on the ground and in the saddle
This class is held in partnership with The Right Path.
Questions? Call Cindy, Veteran Liason, at 405.714.4697.
Ready to register? Call Leslie at 918.612.0002.
Location

Dates
Days
Times
Tuition
Dates: 9/17-11/5
Days: S
Times: 9:30a-11:30a
Tuition: FREE